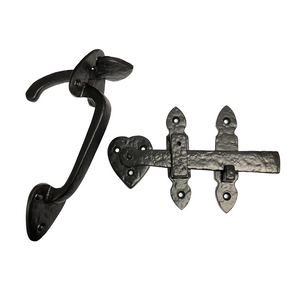 Discover the perfect marriage of functionality and vintage charm with our Thumb Latch Set—a classic hardware solution designed to secure and operate your gate with ease.
Crafted with attention to detail, this set includes a thumb-operated latch mechanism that adds a touch of traditional elegance to your gate.
Our Thumb Latch Set is a tribute to simplicity and reliability, offering a seamless way to secure your gate while allowing effortless entry or exit.
Whether you're enhancing the entrance to your garden or adding character to your property, this set ensures both security and aesthetics are perfectly balanced.
Choose our Thumb Latch Set to embrace the convenience of a user-friendly latch mechanism that stands the test of time.
Elevate your gate with a touch of old-world charm that resonates with your appreciation for timeless design.