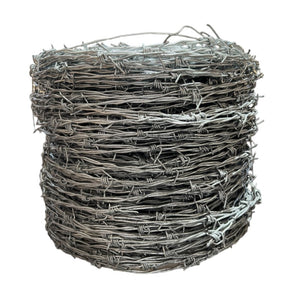 Discover the ultimate in security enhancement with our premium barbed wire, spanning an impressive length of 1320 feet.
Safeguard your property like never before by fortifying your gates and fences with this heavy-duty deterrent. Crafted from rugged materials and featuring strategically placed sharp barbs, our barbed wire ensures unwavering protection against unauthorized access and potential breaches.
Designed to discourage climbing and thwart intrusion, this barbed wire is an essential addition for those seeking robust perimeter security. Whether for agricultural applications, industrial installations, or property protection, our 1320-foot barbed wire offers unparalleled defense.
Easy to install and built to last, our barbed wire exemplifies reliability and durability. Prioritize the safety of your surroundings by choosing our superior barbed wire – a steadfast guardian for your gate and fence systems.