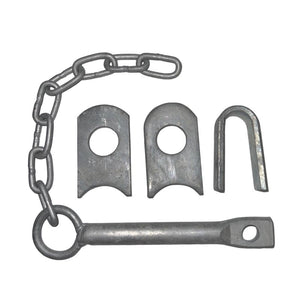 Discover the convenience and reliability of our Chain and Pin Kit—a fundamental hardware solution for your gate and fence.
This kit includes a sturdy chain designed to connect your gate to a post or anchor point, allowing for easy movement. The accompanying pin is expertly crafted to securely hold the gate in a closed position, ensuring stability and peace of mind.
Ideal for various gate styles and applications, our Chain and Pin Kit simplifies access while providing a secure closure when needed. Experience the benefits of a straightforward yet effective hardware solution, and enjoy seamless control over your gate's functionality.