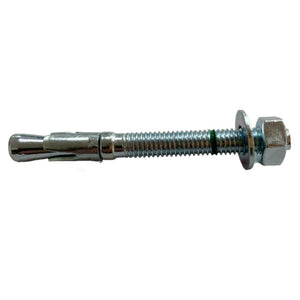 Looking for a reliable and heavy-duty fastener to secure your objects to concrete or masonry surfaces? Look no further than our expansion anchor bolt!

Perfect for industrial, commercial, and residential construction projects, our expansion anchor bolts are commonly used for attaching structural components, such as steel columns or machinery, to concrete floors or walls. They are also ideal for securing heavy equipment, shelving, and fixtures.

Our expansion anchor bolt is available in various sizes and quantities to suit your needs. Plus, with our fast and reliable shipping, you can get your hands on our anchor bolt in no time. Trust us to provide you with the quality products you need for your projects.
With our expansion anchor bolt, you'll have peace of mind knowing that your objects are securely fastened to the surface. Order now and experience the difference!

Comes in boxes of 50 pcs.