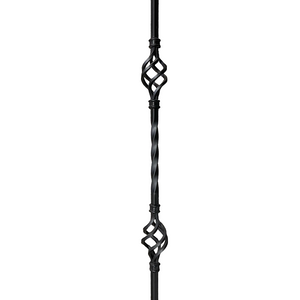 Elevate the elegance of your gate or fence with our Double Tube Basket Balusters—a stunning combination of form and function.
These balusters feature a unique design consisting of two parallel tubes that gracefully intertwine, forming a basket-like pattern that adds both structural support and visual appeal to your railing system.
Crafted with precision and an eye for detail, our Double Tube Basket Balusters are designed to enhance the beauty and sophistication of your space.
Whether you're working on a staircase, balcony, or outdoor railing, these balusters offer a captivating and timeless look that complements a wide range of architectural styles.
Choose our Double Tube Basket Balusters to create a railing system that stands out with its intricate design and exceptional craftsmanship.