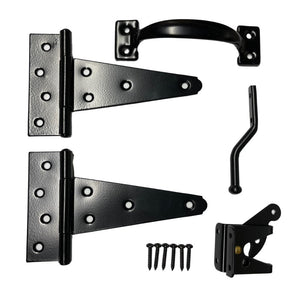 Introducing our premium Wood Fence Gate Kit - the perfect way to elevate your fence and transform your outdoor space! This comprehensive kit includes all the essential components needed to effortlessly construct a beautiful and durable wood fence gate.
Crafted with the highest quality materials, our Wood Fence Gate Kit ensures exceptional durability, allowing your gate to stand strong against various weather conditions for years to come. Its user-friendly design and carefully crafted components make installation a breeze, saving you valuable time and effort.
Whether you're a seasoned DIY enthusiast or a first-time builder, our Wood Fence Gate Kit caters to all skill levels, providing a hassle-free and satisfying gate-building experience. Its versatile design complements a wide range of fence styles and sizes, making it a perfect addition to any residential or commercial property.
Enjoy the added benefits of enhanced privacy and security as you create a stunning entryway for your property. Upgrade your fencing project with our top-of-the-line Wood Fence Gate Kit, and witness the remarkable transformation of your outdoor oasis. Don't miss out on this opportunity to elevate your fence - order your Wood Fence Gate Kit today and embark on a journey towards a more beautiful and functional outdoor space!